Checklist


1.
All authors have participated in and agree with the content and work's conclusions.
2.
All personal information based on the author are proved to be accurate.
3.
Abstracts in both languages are written accurately.
4.
Keywords have been precisely chosen and entered.
5.
All references utilized from the Communication Science & Disorders (CSD) are cited in the bibliography.
6.
All information regarding reference citation is accurate. Are references cited both in text and in the bibliography?
Number of references cited in text:
Number of references cited in the bibliography:
7.
Are all references cited in the correct format for the journal (year and type of publication, name of publisher, published city, book and page number, etc.) accurately stated?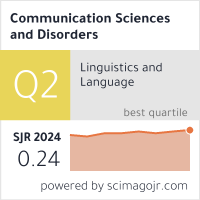 Register for e-submission
Register here to access the e-submission system of Commun Sci Disord for authors and reviewers.
Manuscript Submission
To submit a manuscript, please visit the Commun Sci Disord e-submission management system at http://submit.e-csd.org, read the Instructions for Authors, and log into the Commun Sci Disord e-submission system. For assistance with manuscript submission, please contact: kjcd@kasa1986.or.kr.
Free archive
Anyone may access any past or current articles without logging in.